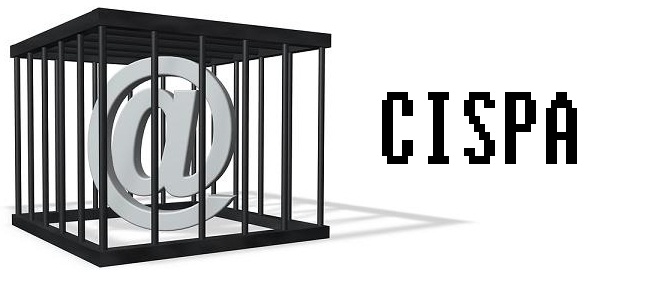 CISPA, stands for the Cyber Intelligence Sharing and Protection Act of 2011  (H.R. 3523). More precisely, this new bill is a kind of a successor of the latest SOPA legislative proposal which was shot down at the beginning of the year.
According to EFF's analysis, this bill could be used to give copyright enforcers the ability to spy on Internet users and censoring the Internet.
A company can "use cybersecurity systems to identify and obtain cyber threat information to protect the rights and property".
More precisely, this means: monitoring email, filtering content, or even blocking access to sites.
A company acting on a "cybersecurity threat" would be able to bypass all existing laws, including laws prohibiting telcos from routinely monitoring communications, so long as it acted in "good faith."
The language used gives the possibility to do quite anything to restrict the online freedom. For example:
 theft or misappropriation of private or government information, intellectual property, or personally identifiable information.
We could easily imagine that an ISP would be able to monitor the communications of its suscribers for potential infringement of intellectual property. The terms are so vague that an ISP could even interpret this bill as giving them the ability to block accounts, to block access to websites for the users infringing the copyrights.
Quite every measures could be taken in order to guarantee the so called "cybersecurity".
Facing this frightening new bill, users are looking for a way to bypass the new possible restrictions. Thanksfully there is a way to circumvent both website blocking and activity monitoring.
The VPN an efficient way to bypass CISPA
The VPN (Virtual Private Network) is a simple application which allows you to connect to a VPN server. Once the connection is established, all your datas are encrypted. Then you benefit from a new IP which hides your identity.
The VPN provides privacy and anonymity
Neither your ISP nor third-parties could be able to determine your identity. Because of the new IP provided, they only see the identity of the server.
Therefore you are able to prevent yourself from being monitored, and also tracked. Moreover the connection process is very easy, you just have to select a server location and then you benefit from a brand new identity.
The VPN allows you to access to blocked sites
Aside from giving you the right to access to geoblocked sites, the VPN allows you to bypass any kind of restriction. Every time you connect to the server you are another user, so you are able to restore your online freedom.
Top 3 VPN providers to ensure your online privacy and to bypass CISPA
Bottom line
The VPN is one of the surest way to ensure your online privacy and anonymity. Its data encryption ability gives you access to a stress free browsing.
Moreover it restores your online freedom by giving you access to famous geobocked sites as: