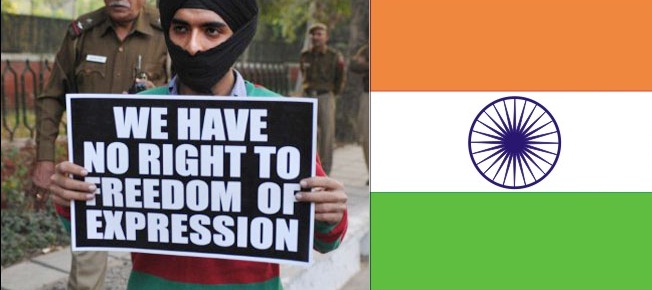 Since June 2000, Information Technology Act, India put a legal framework to regulate Internet use and commerce, including digital signatures, security and hacking.
The act allows police powers to search and arrest without a warrant. The 2008 amendment empowered the previous act by giving the power to block Internet sites and content and criminalized sending messages deemed inflammatory or offensive.
This measures give a strong power to the government and settle an actual internet censorship which already censored multiple sites:
2003 — Yahoo Groups banned: Kynhun, a Yahoo group close to an illegal, minor separatist group from Meghalaya which discussed the case of the Khasi tribe was banned. The Indian government asked the ISPs to block the group.
2006 — the Indian government ordered the blocking of 17 websites, some of them were hosted on Geocities, Blogspot and Typepad domains. Technical issues led to the blocking of all this platforms during 1 week.
2007 — Orkut and Indian law enforcement agreement: Indian law found an agreement with Orkut (social networking site) to track down what could be defamatory content.
2008 — IRC Undernet banned: IRC Undernet (www.undernet.org) was banned without any media coverage in 2008.
2011 — the Indian government banned several websites, Typepad, Mobango, Clickatell, without warning. All file hosting websites were also blocked to prevent piracy of the film Singham. This ban was later lifted.
Among all these sites blocking and banishements, the indian internet users are willing to find a way to ensure their online freedom. Fortunately there is a way to bypass the Indian internet censorship and to browse safely.
How to bypass the Internet Censorship in India?
The solution is very simple, it consists of using a Virtual Private Network (VPN). This kind of software settle a secure tunnel for your datas. It enable the encryption of all informations. Thus you are connected to the VPN server, you benefit from a brand new IP which allows you to hide your identity.
Why use a VPN in India?
Bypass the internet censorship and appear as anonymous
How to find a VPN?
1. Choose a provider by sorting them within two criteria
The VPN protocol: the OpenVPN provides better privacy and anonymity even if its more expensive than the PPTP.
The VPN server location: to benefit from the best browsing speed, choose the closest server location. However, if you wish to access to geo blocked websites, you won't have the choice of the server location (for example to browse to Netflix, you have to choose an US server location)
2. Download the application
3. Easily switch your IP
4. Enjoy your restored online freedom
Top 3 VPN providers for India
Bottom line
The Virtual Private Network provides you a stress free browsing by ensuring your total online privacy. The switching IP function allows you to change your identity and to appear as someone else. Neither your ISP (Internet Service Provider), nor the Indian Internet censorship system could be able to identify you. This software also allows you to prevent from leaving any tracks behind you.
The VPN is well known from all internet users in censored countries. It is also a good way for expatriates to enjoy amazing entertainment contents at the American hour.