What is the SOPA?
The Stop Online Piracy Act (SOPA) will be reviewed at the Senate on Jan. 18, and many of the world's most-visited websites are threatening to shut down all access this day.
SOPA would enable to seek court orders against web companies accused of improving copyright infringement — which means anyone who would upload something, without owning copyrights, could also land in prison for up to 5 years.
This law could shut down many websites, and change the internet as we know it. For example, if you've ever uploaded a photo that you didn't take, or posted quotes… you could be a target.
Obviously, this bill can be considered as a kind of censorship, similar to the way China blocked content. Now, major sites as Facebook, Google, Twitter, Amazon, Ebay, Wikipedia,Yahoo, Paypal, … are threatening out to shut down their services on January 18 Jan.
What is the difference between Sopa and Pipa ?
"Protect IP Act" seems to be a kind of reasonnable alternative of SOPA. PIPA and SOPA both jeopardize online community platforms and innovation. To avoid being too legalistic in comparing the two bills, here's a simple chart comparing PIPA and SOPA.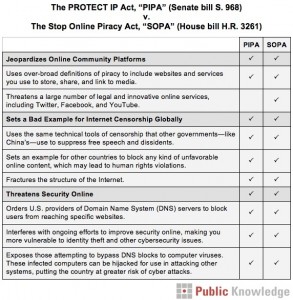 The Jan. 18 growing protest gains many websites
Wikipedia with its 25 millions visitors (english version), will only give instructions on how to reach out to your local US members of congress. Wikipedia anti-SOPA blackout
Hacking group Anonymous scheduled a 12-hour communication blackout in protest of SOPA, reports The Inquirer.
How to bypass Sopa's restrictions with a VPN service?
A VPN service remains one of the best way to bypass Sopa's restrictions, including blocked websites. Using a VPN channels your internet trafic through an encrypted tunnel which maintains your online anonymity.
However, according to A. M. Reilly of Industry Leaders Magazine :
For companies that use virtual private networks (VPN) to create a network that appears to be internal but is spread across various offices and employees' homes, any of these offsite locations that initiate sharing of copyright material could put the entire VPN and hosting company at risk of violation.
So, if SOPA passes in its current form, a VPN service would be the best way to bypass the restriction.
Choosing a VPN provider with UK, mexican or canadian server locations will allow you to surf anonymously.