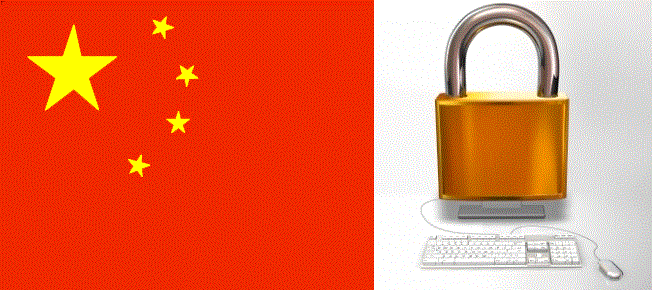 The Chinese's internet censorship system is among the most stringent in the world. In our days, the government blocks Web sites such as Facebook, Youtube, Twitter and also VOIP (voice under IP) such as Skype.
Since 2009 Ürümqi riots, the authorities are fearing an increase of the internet protes. Therefore, Google also suffered from Chinese's pressure:
In June 2010, (..) the license renewal was  a sign that Google, while uncomfortable with operating in China and censoring its search results on Beijing's behalf, is determined to keep a foot in China, which now has more Internet users than the United States.
Despite much efforts, including US moves and the denunciation from Amnesty International, China is still employing several people to monitor and delete objectionable content.
Tens of thousands of others are paide to "guide" bulletin board Web exchanges in the government's favor.
Thankfully, Chinese internet users are not lacking of solutions to bypass the censorship system of the internet.
How to bypass the internet censorship in China?
Most users could think that the proxy would be a sufficient solution. Despite all its assets, the proxy provides much less security, anonymity and speed than the Virtual Private Network. The VPN meanwhile ensures you a safer browsing wihin totally hiding your identity.
This kind of software builds a tunnel for your connection and disable any tracking. Once you are connected to the VPN server, you benefit from a new IP which hide your online identity. Thus you are able to browse to blocked websites .
VPN providers also offer the ability to browse with your mobile device, and to secure your communications on your iPhone / iPad or Android.
How to use a VPN?
1. Choose a provider according to the following criteria:
2. Download the application
3. Enjoy a restored freedom on the web
Top 3 China VPN providers
VPN protocols:
PPTP, L2TP/IPSec and OPENVPN
Server locations: US + 12 countries
Desktop App: Windows, Mac
Mobile App: iOS, Android
Price: $14.99 (only for ST4RT*vpn users)
Desktop App: Windows, Mac
Mobile App: iOS, Android
- See more at: http://www.start-vpn.com/vpn-providers/vyprvpn/vyprvpn/#sthash.kI3rTxwD.dpuf
Protocols :
PPTP/L2TP/IPsec and OpenVPN
Server locations: US + HK + 36 countries
Price: $11.52
Protocols:
PPTP and OpenVPN
Server locations: US + HK + 10 countries
Price: $12.95
See our comparison of other VPN providers for China
Bottom line
Every day, the internet censorship is getting stronger in China. Using a VPN allows you to enjoy from a restored freedom on the web and to benefit from amazing services such as Hulu, Netflix or Pandora (US IP address).