VyprVPN Personal VPN service is a VPN, or Virtual Private Network, providing internet security against online privacy invasions. VyprVPN service provides a solid layer of Internet and wireless security unavailable with traditional Internet security software.
To use our VPN service, simply login to activate a secure, encrypted VyprVPN connection and all your online communication (web addresses, e-mails, instant messages, VoIP, social networking, etc.) is "scrambled" as it travels through your Internet service provider (ISP) to VyprVPN servers, making it impossible for eavesdroppers to see what you're transmitting.
Once your online traffic reaches the VyprVPN servers, it's stripped of your Internet Protocol (IP) address, tagged with a VyprVPN IP address, and sent to its final destination on the Internet. Now hackers and identity thieves don't see your identity associated with an e-mail, for example, they see VyprVPN.
VyprVPN service is a VPN provider that maintains your internet security and keeps your online privacy intact.
Specifications
IP Address Features: IP Shared (dynamic)
Protocols Features: L2TP/IPSec, OPENVPN, PPTP, Chameleon
Speed & Transfer Features: Unlimited Transfer, Unrestricted Speed
Server Locations Features: Argentina, Australia, Austria, Bahrain, Belgium, Brazil, Canada, Colombia, Costa-Rica, Czech Republic, Denmark, Dubai (UAE), Finland, France, Germany, Hong-Kong, Iceland, India, Indonesia, Italy, Ireland, Japan, Lithuania, Luxembourg, Malaysia, Mexico, Netherlands, New Zealand, Norway, Panama, Philippines, Poland, Portugal, Qatar, Romania, Russia, Saudi Arabia, Singapore, South-Korea, Spain, Switzerland, Sweden, Taiwan, Thailand, Turkey, United-Kingdom, United-States, Vietnam
Platform Supported: Android, iPad, iPhone, Linux, Mac, Web-Based, Windows, Routers
Language Supported: Deutsch, English, Español, Français, Nederlands, Português, Turkish and Chinese
Desktop App: Windows, Mac
Mobile App: iOS, Android
Screenshots (VyprVPN Apps)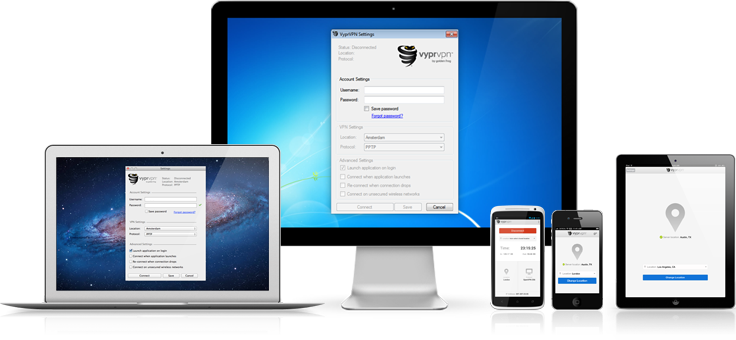 Help/Supports
Support Method: Email (ticket), Live Chat
Support Language: English
Editions & Pricing
Offer Number: 3 plans
Price (monthly): Starting at $6.67 (only for START-vpn visitors)
Free Trial (days): 3 days
Moneyback Guarantee (days): No
News
05/03/2013: When VPN provider VyprPVN is venturing to the smallest nooks of the world!
04/24/2013: VPN provider VyprVPN keeps conquering new places for new servers!
04/22/2013: VPN provider VyprVPN is becoming Swiss!
04/11/2013: VPN provider VyprVPN is conquering new territories!
04/05/2013: A new server for VPN provider VyprVPN
03/05/2013: A new version of VyprVPN VPN service for Mac!
01/18/2013: VyprVPN releases its VPN client for Mac
12/28/2012: VyprVPN adds 5GB of Dump Truck online stockage for every accounts
12/03/2012: VyprVPN launches their VPN applications for Android and iOS
07/13/2012: VyprVPN Released its v1.3 VPN Application
04/17/2012: New VyprVPN's exclusive offer for START-vpn visitors
04/10/2012: VyprVPN announces a new server opening in Austin TX
03/27/2012: VyprVPN updates its VPN application to version 1.1
03/05/2012: VyprVPN app is out of Beta
01/11/2012: VyprVPN app now available for Giganews users
01/11/2012: VyprVPN adds a new server in Germany
11/10/2011: VyprVPN App is Ready for Windows Users!
09/29/2011: VyprVPN set up VPN servers in France.
09/28/2011: Goldenfrog launched a new version of its website!
06/21/2011: VyprVPN takes of London!
05/17/2011: Golden Frog – VyprVPN adds United-Kingdom VPN Server
04/21/2011: EXCLUSIVE PRICE for START-vpn visitors: VyprVPN Pro at $14.99/month (regularly $19.99) – SAVE $5
03/07/2011: Golden Frog and Giganews partnership expands to offer the full suite of VyprVPN to ALL customers
11/08/2010: VyprVPN protect your connection from Firesheep with a VPN
10/14/2010: VyprVPN, new NAT firewall feature available
10/08/2010: VyprVPN Pro increases security options with L2TP/IPsec
04/09/2010: VyprVPN adds a new server location!