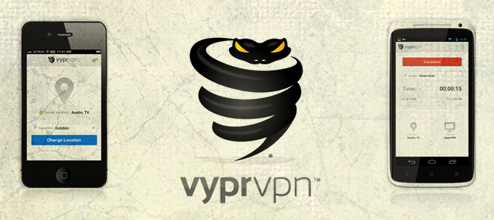 Last week, VyprVPN announced the launching of their applications on iOS and Android. This application is free and you can use it with a VyprVPN Pro accounts.
VyprVPN for iOS
The VyprVPN application for iOS automatically detect your internet connection on iPhone and iPad and enables VyprVPN. The app turns on when you need it and off when you don't, so you won't need manual setup to use VyprVPN application !
The VyprVPN iOS version comes with features like :
Automatic connection when you're on the internet
Encrypted emails, web browsing and iOS apps
Connection to any VyprVPN servers in Europe, North America and Asia
Auto-selection of the nearest VyprVPN server
VyprVPN for Android
The VyprVPN application for Android allows you to connect to any VyprVPN servers. With this application, you will be able to encrypt your datas when you're on internet with your Android device.
The android version of VyprVPN application come with features like :
Connect to any VyprVPN servers
Choose any servers in North America, Europe and Asia
Auto-select of the nearest server
Protect your Android device
VyprVPN requires Android 4.0.0 or higher. You can download it from the Google Play.
To use the VyprVPN, you will need a VyprVPN pro account. You can suscribe on the VyprVPN's website.