What is the iPad mini?
The new Apple's iPad mini has been announced on October 23th, 2012 and will be released on November 2nd, 2012. You will be able to buy this new iPad for 329$ for 16 GB, 429$ for 32 GB and 529$ for 64 GB. The iPad mini is well named : it will be a little bit smaller than the normal "new iPad", with its 7.9 inches screen and will weights only 308 grams. With this new tablet computer, Apple attacks the Google's Nexus 7 and the new Amazon's Kindle Fire HD.
The iPad mini will run the same OS as the new iPad and iPhone 5 : iOS 6. iOS is the most popular mobile OS today, with a huge amount of applications.
Why use a VPN with the iPad mini?
As you know, you can of course connect to wifi hotspots with the iPad mini. It is very handy because with this feature, you can connect to the internet almost everywhere. But there is a fews drawbacks : as the network is public, some people can catch your datas and use them. And sometimes, some public networks bridles your connection and the access to certain websites. In a last article, we already mentioned how to secure your connection with your mobile device.
In a 2010 article, gawker.com revealed that "114,000 user accounts have been compromised"
So, the best way to secure your connection with your iPad mini is to use a VPN. A VPN (virtual private network) is a service that allows you to connect to a VPN server with a secure connection. Your datas are then encrypted and made uncatchable by other users.
Using a VPN can also allow you to change your IP address. There is two advantages to change your IP address : first, your IP address is the only way to identify you on the internet, changing it allow you to navigate on the internet anonymously. Also, changing your IP address can allow you to bypass geoblocking. For instance, if you want to watch Hulu, a famous american's streaming website, your IP address has to be an american one because the site is blocked in other countries and you can do that with a VPN.
How to configure VPN on an iPad mini?
Configuring a VPN on the iPad mini is very simple. Just follow these few steps :
1. Go in Settings > General > Network > VPN and choose Add VPN Configuration.
2. In the form, select the protocol of your VPN provider and then fill it up with the informations needed. Save.
3. Once it's done, you can turn the VPN on or off in the main Settings screen. When VPN is on, an icon will be displayed in the status bar.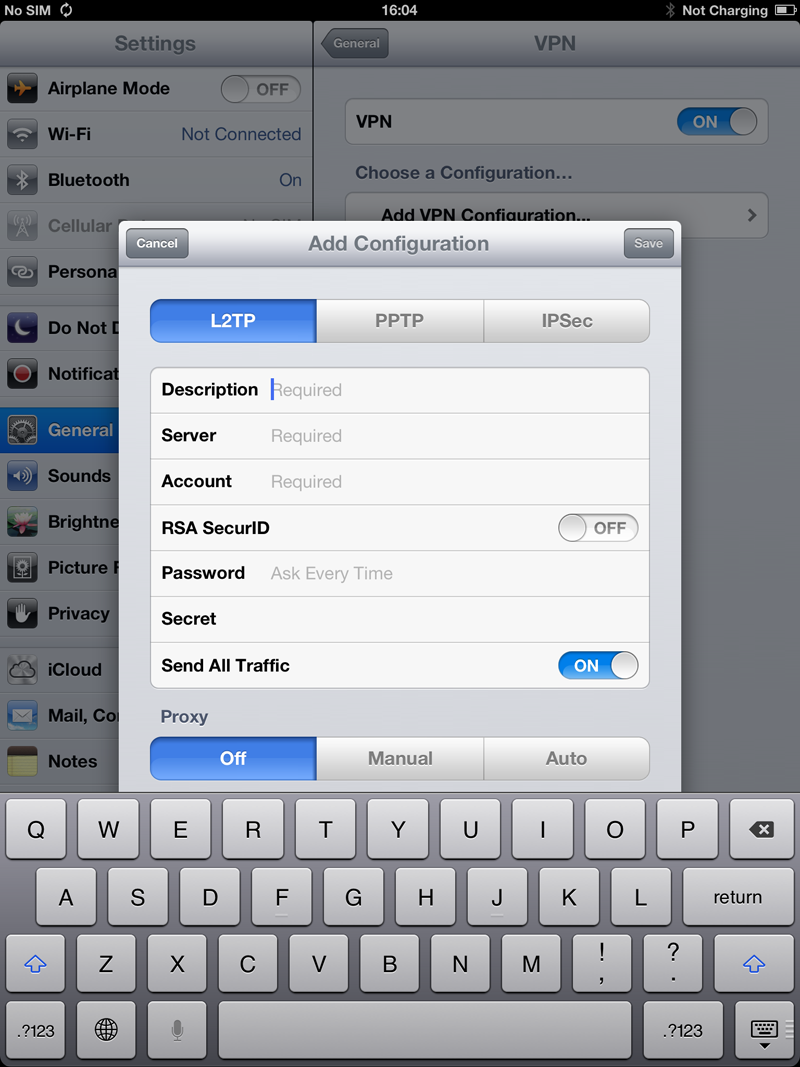 4. If you have multiple VPN accounts, you can switch between them using Settings > General > Network > VPN.
Top 3 best VPN providers for iPad mini
Bottom line
So, using a VPN is the best way to navigate on the internet with your iPad mini. It's safe, easy, anonymous and very handy if you want to access a website that is geoblocked.