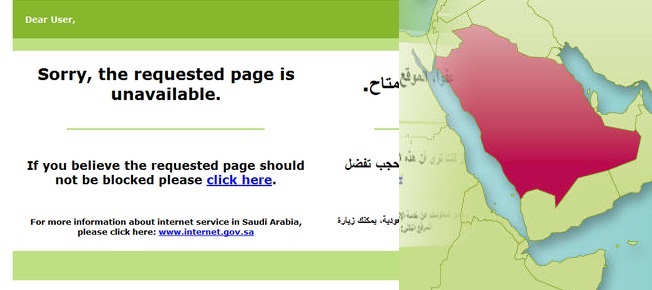 In Saudi Arabia, all Internet traffic go through a proxy farm located in King Abdulaziz City for Science & Technology. Numerous websites are blocked according to two major lists established by the Internet Services Unit (ISU):
The "immoral" (mostly pornographic) sites
An other list based on directions from the Ministry of Interior (includes sites critical of the Saudi government). Even citizens are encouraged to report "immoral" sites for blocking.
According to an OpenNet Initiative:
The most aggressive censorship focused on pornography, drug use, gambling, religious conversion of Muslims, and filtering circumvention tools.
This censorship is part of the most strong repressive tool in the world, with  2006 Google and Wikipedia blocking.
In 2011, the Saudi government also introduced new Internet rules and regulations that require all online newspapers and bloggers to obtain a special license from the Ministry of Culture and Information.
With all this censorship, the needs to protect the Saudian privacy and anonymity are increasing. There are still many ways to improve them, here are one of the best software to do so.
Preserving your online privacy
It consists of using a Virtual Private Network (VPN), a system which ensures you an efficient encryption process. It settle a secure connection between your computer and the VPN server. Once it's established, your identity is hidden behind a new IP address, you don't leave tracks anymore.
Finding the right VPN service
Sort out the providers by filtering them within the VPN protocol, which determinates the level of privacy that will be provided. The OpenVPN furnishes a better anonymity than the PPTP.
Download the software
Switch your IP address
Enjoy your restored freedom
Top 3 best VPN providers for Saudi Arabia
Bottom line
The VPN is a good way to ensure your online freedom against the internet censorship. It allows a stress free browsing on many blocked sites.
Moreover, it also provides the ability to access to famous entertainment websites such as Hulu or Netflix.