What is the BBC iPlayer?
The BBC iPlayer is an internet streaming service for people in the United Kingdom. With the BBC iPlayer you can watch live and recorded BBC programming including sporting events, news reports, radio programs, concerts, documentaries, comedy shows, contemporary drama, and of course those wonderful costume dramas that the BBC does so well.
Why do I need a VPN to access the BBC iPlayer and all that great programing?
The BBC restricts the BBC iPlayer to users in the UK only. When a connection to the iPlayer is attempted, the BBC will automatically check the IP address that is trying to access the service. If the IP address is not registered in the UK then the request to access the iPlayer will be denied.
Using a VPN service which offers servers in the UK means a user will be able to connect to the UK based server and then be issued a UK IP address so that when the user tries to connect to the iPlayer, the iPlayer will see the connection coming from a UK based IP address and grant access to the iPlayer.
The VPN service that we at START-vpn recommend is VyprVPN. The great thing about the way that VyprVPN operates is that they own and operate their own VPN server 'clusters' instead of relying on 3rd parties to host their service like most other VPN providers do. Using this approach, VyprVPN provide reliable connections and fast speeds. It's unavoidable that servers will go down; using the server cluster approach means that if a server goes down, VyprVPN will dynamically switch your connection to another server in the cluster. Not only does VyprVPN's approach offer the fastest, most reliable connections for users wanting to use the BBC iPlayer, but by managing their own infrastructure, the team behind VyprVPN keeps their users more safe and secure when accessing content online.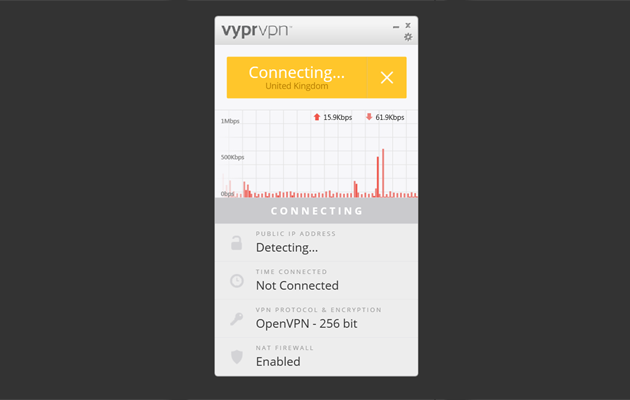 With the clustered server solution it's also easy to connect to VyprVPN. Simply choose a server location like the UK based one we discussed earlier, and connect. There's no need to scroll through a long list of available servers. In just seconds you'll be connected and enjoying great content.