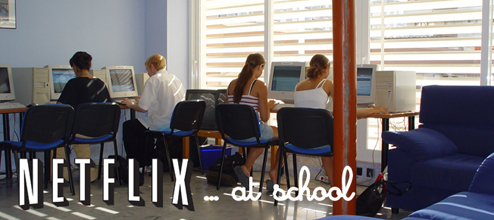 Everybody knows what Netflix is: an American video on demand service which counts more than 27 million of customers from now on. I'm not going to present it again, as there are already many articles about it on the Internet.
In fact, this article is more a tutorial about the way to unblock and watch Netflix in your school, as many students complain about the fact they can't access it on the school's computers or even on their own tablets.
The reason why Netflix is suddenly blocked…
First, you need to know why websites, such as Facebook, Instagram, Snapchat and Netflix also, are blocked. In fact, when you go online at school, it is thanks to a Wi-Fi hotspot to which every student can access. As a result, the Internet network is full and then, the connection is slower. So to allow the Internet to go faster, schools decided to block very popular websites.
Moreover, when you connect, the computer you are using is generally identified by an IP address. In this case, the IP address is the same for all the computers at school. So logically, when you go online in another place (at home, for example), your IP will be different.
Then, because of your IP, you can't access Netflix anymore. So the only way to solve it is to change your IP address. And you can do this thanks to a VPN.
The VPN is THE solution!
Let me explain to you what it is. A VPN is a software to install in your computer and which is used to change automatically your IP address according to the websites on which you want to go. As I said earlier, the IP is different from a place to another. So with a VPN, you can't have a new IP to connect at school and then, you can have access to Netflix again.
The VPN can also be used for other reasons. Among them, the fact that you become anonymous thanks to this software: it means that since you have changed your IP address, you can't be identified anymore. Besides, nobody can see what you are doing online. Finally, your data are protected from possible threats, hackers especially.
Here is below a chart of the best VPN providers in the United States:

I hope that this tutorial will be then useful to you. To access Netflix abroad, please see the different articles on the menu on the right, in the section called "How to guard your freedom".