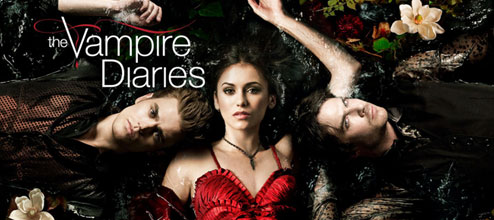 A Twilight remake, really?
Since the surprising success of "The Twilight Saga", producers have found any reason to adapt the adventures of supernatural creatures, such as vampires, on the small and the big screens. Lisa Jane Smith's novels, "The Vampire Diaries", didn't escape the rule and in 2009, the series of the same name was broadcasted on the CWTV for the first time. Besides, its producers decided not to get their inspiration in the original books, but in the "Twilight" movies. At first sight, it is true that both stories were apparently similar. But finally, "The Vampire Diaries" has created its own mythology over the years, so it can differentiate from its rivals. Then, for 4 years now, it's been a huge success for the inhabitants of Mystic Falls, the town where the action mainly takes place.
The success is not ready to stop, as the TV show has been renewed for a fifth season at the United States. In the meantime, the audience recently discovered Elena as a new-born vampire. But in the rest of the world, it is not the case of TV viewers. Then, instead of waiting for the current season to be broadcasted outside the U.S.A., you can also try to watch it online on the CW's official website.
Vampire Diaries online at home: how can you do that?
You have several ways to watch the adventures of Elena and her friends. Among them, it is possible to use a VPN, a software which allows you to modify your IP address.
An IP address identifies your computer when it is connected to an Internet network. Then, your IP address changes according to the place, or even the country, where you live. So to access the CW's website's contents, you need to have an American IP address, since it is located in the United States.
Indeed, when you are trying to go on a foreign website (here, the CW's), here is what you can see on your screen: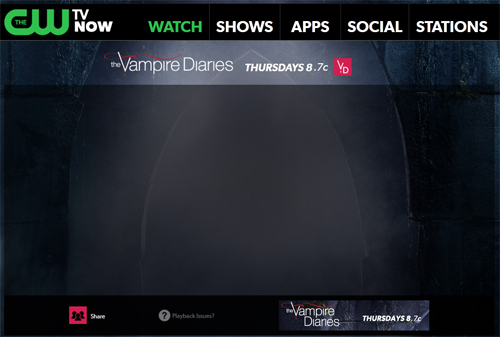 As you have noticed, nothing is displayed! Because you live abroad and have a non-American IP address, it is impossible for you to watch "The Vampire Diaries" online, since only American people can do that. The solution then is to replace you actual IP with an American one.
The VPN has also other functions. First, you can keep your anonymity: indeed, when you go on any website, a lot of information is leaking out (your Internet service provider, all the links you have visited, your passwords…), whereas with a VPN, you are recognised by your IP address only. Then, nobody can see what you are doing on the Internet. To finish, you are protected from any threats, hackers for example.
Now that you know how a VPN works, you can sit on your chair and enjoy the rest of the adventures of Elena as a vampire!
Top 3 best VPN providers to watch The Vampire Diaries online outside the US