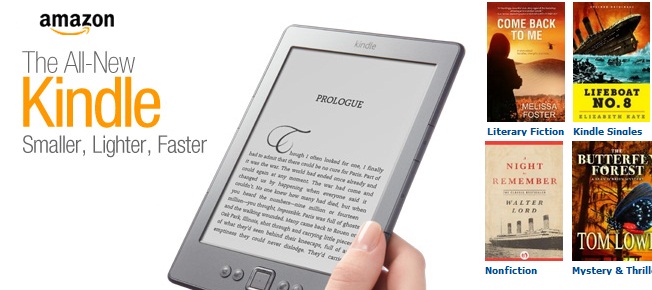 The Amazon Kindle is a range of e-book readers now in its fourth generation. Amazon Kindle eReaders give its users the ability to shop for, download, browse, and read e-books, newspapers, magazines, blogs, and other digital media. The hardware platform now comprises a range of devices display capable of rendering 16 shades of gray to simulate reading on paper while minimizing power consumption.
The version announced in September 2011 now includes devices with keyboards (Kindle Keyboard), devices with touch sensitive screens (Kindle Touch), a tablet computer with a reader app and a color display (Kindle Fire) and a low-priced model with an on-screen keyboard (Kindle).
Amazon has enabled various OS and devices, including Microsoft Windows, iOS, BlackBerry, Mac OS X (10.5 or later, Intel processor only), Android, webOS, and Windows Phone. Contents for the Kindle can be reached online and downloaded through wireless in some countries, using either standard Wi-Fi or Amazon's 3G "Whispernet" network.
Unfortunately for none-US users, the Kindle has geo-restricted content. Actually, Amazon tracks your IP address and blocks the access according to your country location. If you don't appear as someone from the United States, Amazon will block most of its web contents. Usually such geo blocking is due to the copyright policies and the licensing issues which are applying through other countries.
How to unblock the contents on Amazon's Kindle?
Because of Amazon's tracking system on your IP's origin, the solution simply consists of switching it to an US one. A VPN is an ease-to-use application which allows you to connect to a VPN server which provides you an IP according to its country location.
Thus to unblock the Amazon's Kindle contents, you just have to connect to an US server! However you also have to get an Amazon US account, so here is a way to proceed:
Create an account at the Amazon web store at amazon.com
Select the table 'Manage your Kindle' and then from the Country Settings choose United States.
Change your address to an address in the United States.
Register for the credit card details, your address don't have to be an US one.
Best VPN providers to unblock Amazon's Kindle
Bottom line
The VPN opens you plenty of opportunities by allowing to access the famous geo-blocked websites which give you access to the famous American entertainment contents.
Otherwise the VPN also provides an high level of privacy and anonymity, which can be very useful since all the context surrounding the Megaupload's shutdown and the CISPA.