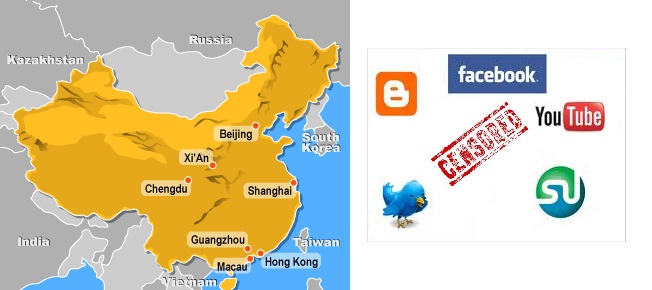 In a recent article we described how tight could be the internet censorship in China. The blocking of many sites make the browsing hard for the expats or even for Chinese residents who wish to browse freely.
Since 2011 VPN blocking, users begin to feel helpless dealing with the new restrictions. The Great Firewall managed to block PPTP and L2TP VPN Protocols. Thus Chinese users were unable to unblock sites like Facebook , Youtube or Twitter.
However, as the other technologies, the VPN service also evolves fastly. Users are no longer hopeless in front of the censorship thanks to more efficient protocols such as SSL OpenVPN.
See how does the OpenVPN work.
Why does the OpenVPN seem to work in China?
The OpenVPN protocol is the most secured protocol, it provides the best privacy and anonymity for your browsing. The use of the SSL security protocol guarantees an improved security and includes also two steps: authentication and data encryption.
OpenVPN makes a double authentication: from the client to the VPN server and vice-versa. This authentication is based on an asymmetric encryption using a key of 2048bit or 4096bit.
Once the authentication is done, OpenVPN uses symmetric encryption to encrypt your datas. This encryption also uses a key of a variable length: 128bit, 256bit, 448bit. The security of your connection depends directly on the length of the key.
This protocol is secured enough to bypass the Great Firewall of China.
Why use a VPN in China?
The VPN service is useful to bypass the internet censorship in the stringent countries such as China and Saudi Arabia. Thus you can be able to access to blocked sites such as Facebook, or softwares such as VOIP (Voice Over IP, as Skype).
The VPN is one of the best software to ensure your online privacy. It provides you a new IP (i.e. new identity) which also enables you to unblock geo-blocked websites such as:
Besides the VPN gives you the ability to secure your various devices like smartphones (iPhone, Android, Blackberry), or tablets (Samsung Galaxy Tabs, iPad).
Top 3 best VPN services in China
The best way to enjoy all the value of the VPN in China, is to use an OpenVPN protocol. Then, choose a provider with the closest server locations (Hong Kong for example).
Bottom line
The internet censorship grows every year much more in the world. 2012 is also  a year for the restriction of freedom of speech, especially with ACTA, and SOPA/PIPA. Therefore is the use of a VPN increasingly important.
Moreover you don't have to live in a censored country to find it useful. Even in Europe or in the US you could wish to unblock foreign websites.