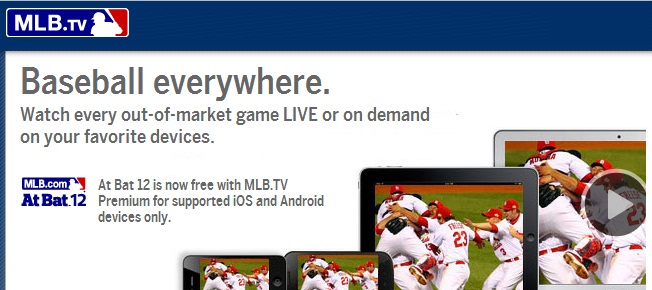 MLB.tv is a U.S. subscription on-demand service which allows users to hear and watch HD quality Major League Baseball games live via a high-speed Internet connection.
Both type of suscribers: MLB.tv Basic and MLB.tv Premium are able to access to In-Game highlights and stats, Live game DVR control, Mosaic view, Full Game Archives, Audio overlay (Away radio audio overlay is available to MLB.tv Premium subscribers only), Pitch by Pitch widget, Clickable linescores and Fantasy player tracker.
The viewing is however restricted for MLB.tv basic subscribers, who can only view and hear the service using their desktop or laptop computer whereas MLB.tv Premium subscribers are able also have access to audio and video using their mobile device such as Android or iOS or gaming console like the Xbox 360 (A $5 per month subscription to Xbox Live Gold is required to access MLB.tv) and the PlayStation 3.
Furthermore, starting with the 2012 season, MLB.tv has begun a service called Audio Overplay which enable to replace the video's home or away audio with the audio feed from the home or away radio feed.
Nevertheless MLB.tv remains unavailable for viewers situated outside the fifty states of the United States. Due to licensing constraints, the restrictions blocks the access to all foreigners thanks to an IP detecting system.
How to bypass the restriction on MLB tv?
Unfortunately, you aren't able to change the location in your IP address, unless you decide to move in the USA…
One of the best solutions consists of using a Virtual Private Network (VPN). This kind of application provides new IPs. When you use a VPN, you are able to connect to VPN servers, situated all around the world. Once the connection is established, your identity is hidden behind the identity of the server.
Thus, to circumvent the limitation, choose a VPN plan with U.S. servers and connect to one of them. Once it's done, you appear as an American user and benefit from a free access to MLB.tv.
Top 3 best VPN offers to unblock MLB.tv
Bottom line
The VPN is a good compromise to bypass the geo-restriction. Moreover its connection process includes the encryption of your datas, which guarantees your online security.