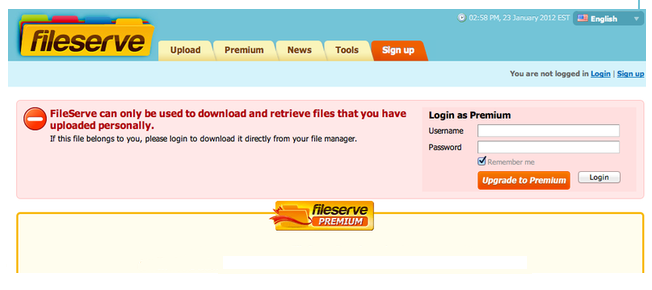 Following MegaUpload's shutdown and the arrest of its CEO Kim Dotcom, FileServe just disabled "all sharing functionality", and claimed that their services can "only be used to upload and retrieve files you have uploaded personally".
After all this shutdowns, here is a summary of the situation for the file-sharing websites:
Filesonic – Stopped file-sharing
The Facebook page  also vanished. According to users on Reddit, many accounts and files would probably be deleted.
Fileserve – Stopped file-sharing
The company has not made any official report yet. This shutdown is also available for others websites owned by Fileserve, such as Filejungle and UploadStation It now only allow users to download content that they have uploaded themselves.
It is thought that FileServe follows FileSonic and other sites in response to the wider crackdown on file-sharing sites by U.S. authorities.
Filepost – Suspending accounts with infringing contents
"We don't have a business built on copyright infringement. Like many other cloud-based sharing services like Box.net and Dropbox, we're a legitimate business targeting professionals."
Despite all this closings, and all those which are certainly coming next, what are your best alternatives to ensure you a way to continue both consulting entertainment content and ensuring your professional back up?
Alternatives to MegaVideo – Entertainment content
1. VPN service
Using a VPN service gives you the guarantee of a safe and private browsing. It prevents you from leaving any tracks. One of its features consists to a IP-adress switching application which allows you to browse on geoblocked websites such as Hulu and Netflix.
2. Usenet
Usenet is a group of computers that enable you to download files (such as videos, softwares, etc.) at best speed (only limited by your own connection). Usenet also provides you a full bandwidth, (45 mins for  a 5 GB HD movie).
Best usenet providers
Giganews offers the best in binary retention, article completion and rates. Giganews Usenet has been setting the standards across the Usenet service provider industry and always has offered the top tier in Usenet services with features.
More details about Giganews.
The network backbone of UsenetServer connects to more than 800 broadband access providers around the world. 800 broadband access providers in addition to multiple Tier 1 bandwidth providers. This overwhelming server network makes sure you can max out your internet connection.
More details about UsenetServer.
Newshosting has an advance server design. They have a redundant server network that may lose any node and keep fuctioning. By using such technology they can ensure an outstanding uptime.
Alternatives to MegaUpload – Professional Back Up
1. SugarSync: online storage, backup and file sharing suite. SugarSync enables you to store up to 5GB and share files no matter how much gigabyte that file has. The bandwith is limited though: for free users this is 10GB per day and for paid accounts 250GB.
2. Dropbox: a very reliable syncing and file sharing service. For free, the user gets a 2GB of syncing and sharing space. You can share folders and files and invite your friends, family or collegues via email to share the files.
3. SpiderOak provides a high level of security which Dropbox lacks a bit. Also, 2GB are available for free where you can share and sync files. To share a file, you just have to open a "private room" and drop the files here, create a link and send to everyone.
4. Rapidshare : upload files of unlimited size and Rapidshare spits out a link that is shareable over all social networks but of course can be kept private as well. However, if you're not a RapidPro user your files will get deleted after 30 days. A RapidPro account is available for 39$ for 150 days.
5. Wupload : 2GB file upload for free and 10GB for paid users for$9 for 30 days. Wupload has very fast servers so as a premium user you can upload and download blazingly fast.
Bottom line
All the events about SOPA are changing internet as we know it. Both VPN and Usenet tools are useful enough to bypass the restrictions that are happening in 2012.
The future is also unclear for file-sharing's websites. Thankfully there are still plenty of alternatives to consult entertainment content and also for professionnal back up.
You can also consult our alternatives for Megavideo.