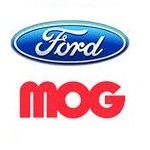 MOG, the famous streaming music website announced yesterday its partnership with Ford to bring its service to the SYNC App Link. This application enables the drivers (with compatible cars) to benefit from a voice control system to use the MOG app on their smartphones.
With the MOG app, the drivers are able to access radio features, program radio station presets based on artists they prefer, select playlists and play songs from Billboard's Top 50 by pronouncing words like "similar artists," "list playlists" or "top songs."
Despite some rumors from the beginning of the year, that MOG was getting acquired by HTC, nothing happened yet. The MOG's 15 million songs on its iPhone and Android apps makes this service an unmissable  alternative to Spotify and Pandora.
However, due to licensing constraints, MOG is only available in the USA. For all the other users, one of the best solution to bypass the restriction is to use a VPN.