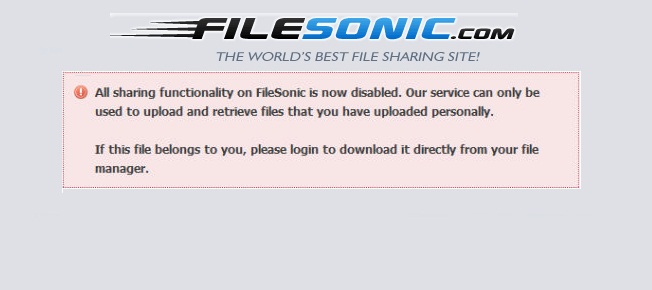 Facing Filesonic's latest closing, what are your alternatives in order to keep downloading files?
In our last article about Megavideo shutdown, we already listed some of the alternatives left for you to keep watching streaming videos.
When the federal authorities took down Megaupload, it disabled millions of files and links, that millions of people can no longer download.
Until now, Filesonic enabled file sharing (upload and download), just as Megaupload did. The website rewarded the owner of the files with money every time one of their files was downloaded.
The removal of file-sharing system remains unclear, but it seems that it was a reaction to Megaupload shutdown. Thus Filesonic avoids taking risk about any legal proceeding, just like Kim Dotcom, Megavideo's CEO.
Filesonic's users still have access to their own files, unlike Megaupload's who lost access to everything regardless of if it was legal content or not.
With this quick chain reaction, what are your best alternatives to keep consulting entertainment content (TV shows, series, movies, music)? See below our selection of best alternative tools to Filesonic.
Alternatives to Filesonic
1. VPN Service
A VPN service (Virtual Private Network) allows you to hide your IP. It encrypts your data by using a secured tunnel between your computer and the server of your VPN providers. Once your connection is established, you benefit from an IP-address from the server location. Thus you can browse to geoblocked websites.
Using a VPN, also allows you to watch streaming videos on popular US websites such as Hulu and Netflix.
In order to watch US series on Hulu or Netflix, you have to choose a VPN provider with US server location. It's also important to select the right VPN protocol:
PPTP, which is sufficient to access to geoblocked websites
Open VPN, which offers you a better connection for security and privacy
See our comparison engine of VPN providers with US server locations.
2. Usenet
Usenet is a group of computers that enable you to download files (such as videos, softwares, etc.) at best speed (only limited by your own connection). Usenet also provides you a full bandwidth, (45 mins for  a 5 GB HD movie).
Best usenet providers
Giganews offers the best in binary retention, article completion and rates. Giganews Usenet has been setting the standards across the Usenet service provider industry and always has offered the top tier in Usenet services with features.
More details about Giganews.
The network backbone of UsenetServer connects to more than 800 broadband access providers around the world. 800 broadband access providers in addition to multiple Tier 1 bandwidth providers. This overwhelming server network makes sure you can max out your internet connection.
More details about UsenetServer.
Newshosting has an advance server design. They have a redundant server network that may lose any node and keep fuctioning. By using such technology they can ensure an outstanding uptime.
More details about Newshosting.
Bottom line
All the events about SOPA are changing the world of the internet as we know it. Both VPN and Usenet tools are efficient enough to bypass the restrictions that are happening in 2012.
The future is also unclear for Filesonic. Thankfully there are still plenty of alternatives to move large files from one computer to another.
You can also consult our alternatives for Megavideo.