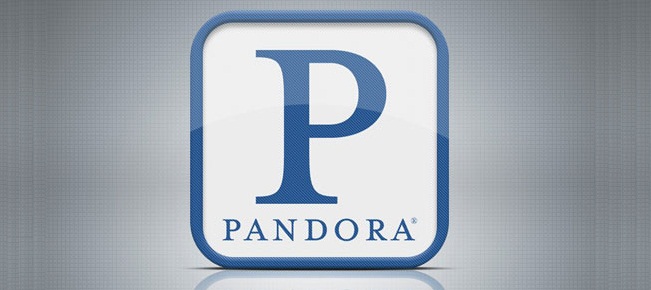 Pandora Radio is an online music streaming service that automates music recommendation and "custodian" of the Music Genome Project. The site plays songs similar to music suggestions entered by a user. The user gives positive or negative feedback for songs chosen by Pandora, which are taken into account for future selections.
During the listening, users are able to purchase the songs or albums at different online retailers. Over 400 different musical attributes are considered when selecting the next song. These 400 attributes are combined into larger groups called focus traits.
Pandora is available on many players, such as the Roku DVP, Reciva-based radios, Frontier Silicon-based connected audio systems, Slim Devices, and Sonos products.
Since 2008, Pandora also offers a mobile version of their software for the Apple iPhone, iPad, and iPod Touch through the iTunes App Store. The Pandora App is also reachable via Android phones, BlackBerry platforms, HP webOS, and Windows Mobile devices.
Pandora Radio offers two subscription plans:
a free subscription supported by advertisements,
a fee-based subscription without ads.
Nowadays, Pandora counts 80,000 artists, 800,000 tracks in its library and 80 million users.
However the Pandora Radio remains only reachable in the United States (full version), in New Zealand and Australia (limited version). Although it has a wide offer for music, the company didn't yet considered its potential customers outside this area.
Because of the expensive licensing rights, the Radio is unable to offer its service. Therefore has the site a blocking system that prevents every foreigner to access the site. This limitation recognizes every user thanks to its IP, that contains your accurate location (city and country). When you are blocked, an error message appears.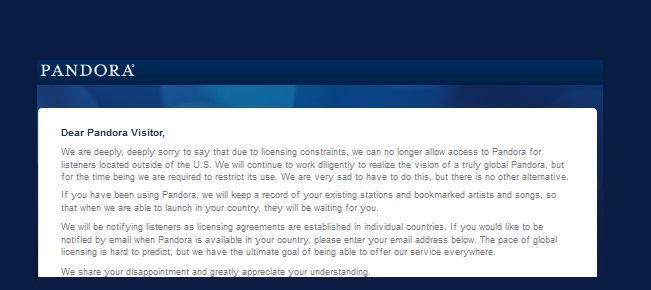 How to unblock Pandora Radio outside US?
The solution is very simple: you need to appear as an American user. The VPN is one of the most effective solution, because it provides new IPs within securing your connection.
Its user-friendly interface shows a list of servers situated in various countries of the world. When you select one of them, a secured tunnel is built between your computer and the server. Your datas are encrypted, and a new IP is provided. You are able to browse under the identity of the server.
Another solution would consist of using a proxy. This kind of application is often cheaper but also much slowler and it provides less privacy and anonymity than the VPN. (Read our comparison VPN/Proxy)
If you want to benefit from the various abilities of the VPN within getting a total anonymity, see our selection of providers to unblock Pandora.
Best VPN providers to listen Pandora outside US
Bottom line
The Virtual Private Network is a good compromise to keep in touch with the famous American entertainment sites as Netflix or Hulu. See the menu on the side to understand all the abilities of the VPN.