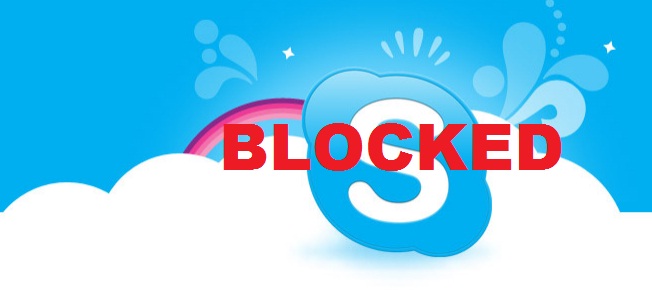 With more than 600 millions users (2011), Skype stands as the world's leading VOIP (Voice Over Internet Protocol) software. This system allows all user to benefit from a free conversation, and from an instant messaging on internet.
However, phone calls, can also be made to traditonal phones.
Since 2003, the company enable free conversations on the web. Today, Skype is very popular. As many other softwares or website as Facebook or Twitter, Skype is victim of internet censorship.
Internet censorship on Skype
The main reason of the banishement of the software in some countries is that the telecommunication operators and Internet service are monopolized by the Government. Thus, all VoIP services would lead to a huge cut in revenues from international calls.
These following countries banned all kind of VOIP:
Belize
Columbia
Guyana
Jordan
Kuwait
Malaysia
Oman
Panama
Qatar
UAE
Yemen
Blocking of Skype in China
In order to bypass the VOIP censorship in China, Skype decided to make a deal with the People's Republic of China. The campany managed to create a joint venture called Tom.
Nevertheless, some reports pretends this company could have been monitored by the Chinese government.
This case isn't surprising, inasmuch as People's Republic of China is already well known from motinoring its inside internet trafic, in examples such as Yahoo! and Facebook.
How to unblock Skype with a VPN service?
A VPN service is one of the best way to ensure online anonymity and privacy. It guarantees to hide your IP: thus your ISP cannot find your IP nor the government.
The process includes creating a secured connection between your computer and your provider's server.
For example: if you are situated in China, you'd better choose an Hong Konger or American (West Coast) server.
How to use a VPN?
1. Select a VPN provider by sorting it out, according to:
The VPN protocol: the OpenVPN is the best way to ensure you private communications.
The VPN server location: that will define the speed of your connection
2. Download the provider's app
3. Simply select the server which you want to connect.
4. Enjoy secured calls.
Get the best VPN provider to unblock Skype!
Here are some famous VPN providers: VyprVPN, HideMyAss, Overplay.
Bottom line
Every year, phone conversations are riskier. In a last article, we  listed the solutions to secure your mobile phone. Even Skype protocol can easily be decrypted. With all these privacy and security breaches, the Virtual Private Network (VPN) is one of the better way to ensure a free browsing on the web.