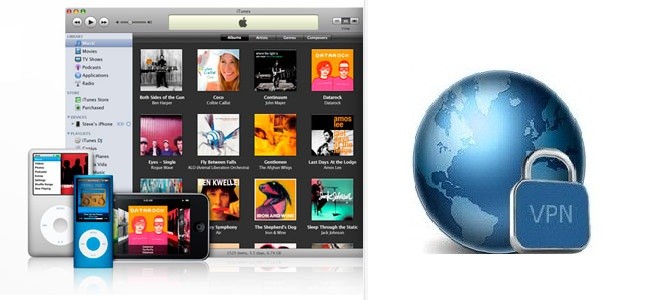 iTunes is among the greatest databases of new media in the US and worldwide. iTunes offers a variety of music, movies and TV Shows. Its interface allows to rent movies for $3.99 with 29 days of availability.
20 million songs
commercial free TV shows
the world's best-selling books — ebooks, audiobooks, and new interactive iBooks textbooks for iPad.
Hundred of thousands of podcasts
Using a VPN for iTunes allows you to access to this wonderful amount of entertainment contents. Actually Apple didn't purchase all the needed rights for every country. By getting a US account you are able to benefit from the entire selection of movies, songs and books.
What is a VPN?
A Virtual Private Network (VPN) connects all of your devices. When you're connected, a new IP is provided. Thus you benefit from an increased privacy and also from security thanks to an encryption system.
The VPN allows you to access to the iTunes US contents, by appearing as an American user.
However, you will also need a credit card with a US billing address.
How to use a VPN to get a US iTunes account?
Choose a VPN provider with US servers
Connect to one of these servers
Freely access to US iTunes
Best VPN services to get a US iTunes account
Bottom line
The VPN frees your internet access by allowing to stay in touch with the famous American entertainment contents. Bypassing the geo-restriction thus enables to discover a new world, especially since the Megaupload's closing.