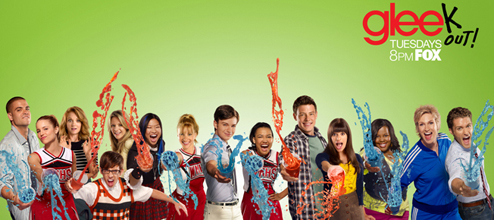 The kind of TV show that hits the mark!
We all know musicals like Grease, Fame and Cabaret, which were huge successes in cinemas. In 2009, a man called Ryan Murphy, who is the author of "Nip/Tuck" and "American Horror History", has an idea: adapting this king of story on the small screen, by mixing love stories and hit songs from yesterday and today. Indeed, "Glee" is especially famous for its Madonna, Britney Spears, Lady Gaga and Justin Bieber's covers. Its main target, teenagers, is fond of that. Since its first broadcasting, this new kind of concept is very lucrative. And success is not only on television, since the song covers do extremely well in the charts.
In every episode, Will Schuester, who is a Spanish teacher and the director of the Glee Club, always tries twice harder to give life to its choir. And after 3 years in high school, the Glee Club's members now go to the university, even if music is still their first hobby. American TV viewers also followed them and they still do so every week. The fans from the rest of world too, but the problem is that you always have to wait until the new episodes are broadcasted in your country. But the Internet is a synonymous of the word "patience" and then, it's better if you use a VPN service in this case.
Glee directly from the United States thanks to the VPN!
At the present time, the fourth season is being broadcasted on the TV channel FOX in America. Like all the other TV shows, Glee can be watched on its official website. But here is what appears on your screen if you don't live in the United States: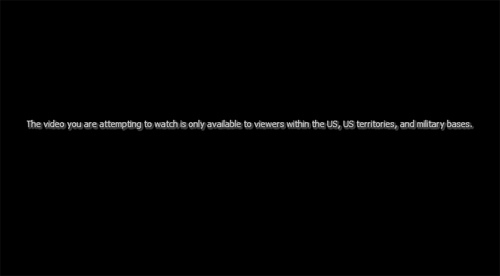 As you can see, you can't watch the last episodes online. This is due to what we call the geographical restriction: that is to say that a website's contents are locked outside of their original country. There is then one solution: changing your IP address.
But what is an IP address? To summarise, an IP identifies your computer when this one is connected to any Internet network. It changes according to the country where you are. Then, your IP will be different if you are in Canada or in the United States.
The only way to modify your IP address is the VPN service. VPN means "Virtual Private Network" and it has several functionalities:
It secures your Internet Connection: hackers can't hack anything on your computer, such as your e-mail or your bank account.
It makes you anonymous: when you don't have a VPN Service on your computer, all your data leak out (your Internet service provider, your web browser, your passwords…); when you have a VPN, only your IP leaks out.
A VPN service is then used to avoid all the restrictions set by the Internet and also to watch your favourite TV shows, such as Glee. Moreover, it is useful to unlock the  contents of websites like Netflix and Spotify.
Top 3 best VPN services to watch Glee online abroad in 2013