It recently came to our attention that VyprVPN have released a Router app that is designed to secure your entire home network. If you thought a VPN was just there to protect your home computer and your mobile phone, then you're in for a pleasant surprise. By using the VyprVPN Router app you'll be able to offer protection to all of the devices on your home network, regardless of device type or operating system. Unsure if your device can use the VyprVPN Router app? If your device can connect to the router then you are protected by VyprVPN. Please note: The VyprVPN router app is only compatible with routers on the Tomato MIPS/ARM framework.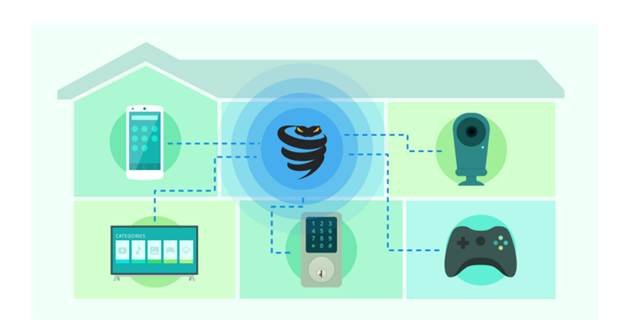 The screenshot above, which is taken from the VyprVPN website, does a great job of showing multiple devices throughout the home connected to the Router app. The Per Device feature is also a great feature that allows users to decide which of their device connections they want to encrypt. For example, if a user wants encrypt the connection from their Android TV through VyprVPN Router, but wants to leave their PlayStation 4 unencrypted, the Per Device feature gives them the flexibility to do so.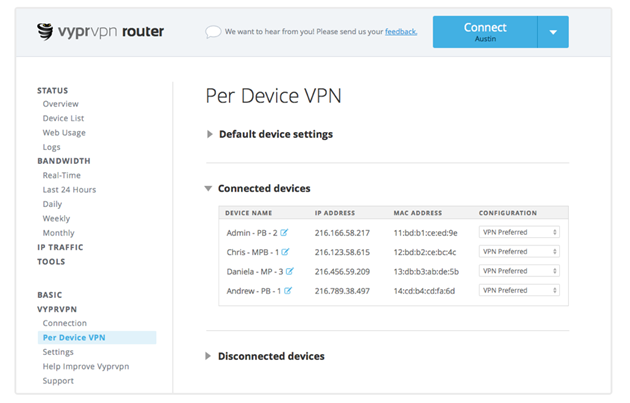 The screenshot above shows numerous devices connected to the VyprVPN Router interface. To the far right, the Configuration area shows which VPN option has been chosen for each particular device. You can also apply default settings. This is helpful in case you have guests connecting with unplanned devices as it gives you control over how they use the VPN on your home network.
Just like VyprVPN's other apps for Desktop and Mobile devices you can easily choose your server location from within the Router app.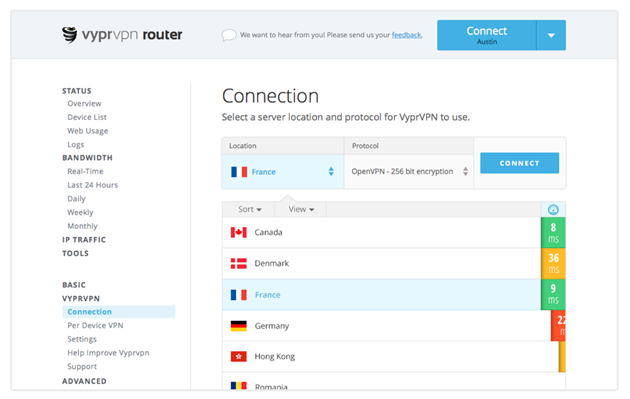 Because of the well-built and innovative features that Golden Frog includes in their VPN software, VyprVPN is the preferred choice of START-vpn.