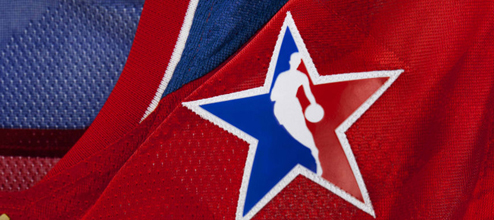 Football isn't the only sport in the world!
Basketball is said to be football's opposite. Well, it is true that each game is played differently. In the meantime, as everybody sums it up through Tony Parker's name, fans know them all very well: Ray Allen, Hilton Armstrong, Chris Andersen, Earl Clark, Jason Collins and Stephen Graham. Especially in the United States, where the NBA is considered as a yearly major event.
The NBA, a must in basketball!
The famous sports league has its own official website, in which you can watch online and live the latest matches. However, when you click on "NBA TV Live", here is what is displayed on your screen: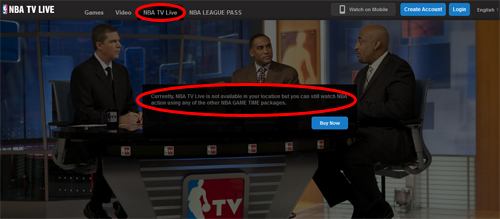 It means that you need to pay a subscription. But if you don't live in the United Stated, you will pay what we call the international NBA League Pass. Why? Because your IP is not American. Moreover, this offer doesn't allow you to watch the entire matches.
If you do live in the U.S.A., you can take the American NBA League Pass subscription, which is divided into three offers:
The NBA League Pass TV: watch the NBA on your TV.
The NBA League Pass Broadband: watch the NBA online thanks to your Internet connection.
The NBA League Pass Mobile: watch the NBA on your Smartphone.
As I said earlier, if you don't have an American IP address, you can't access one of these three offers, as they are only available in the United States. What can you do about that?
A VPN to change your IP address…
Everything is in the title! If you want to get an American IP address, you need to download and install a VPN on your computer. To explain briefly what an IP is, it identifies your computer when this one is connected to an Internet network. The IP changes according to the country where you are. Then, if you are in Canada, you will have a Canadian IP.
VPN means "Virtual Private Network". It has several functions:
Changing your IP address: you just have to choose an IP address according to the website in which you want to go (for example, to access an English website's contents, you will need an English IP).
Securing your Internet connection: hackers won't be able to hack your bank account or your e-mail.
Giving anonymity: without a VPN, so many information that concerns you leaks out (passwords, your Internet service provider, the Internet browser you use…).
To conclude, the VPN is a good way to avoid the Internet censorship. It allows you to go on all the websites of the world, without any restriction.
Top 3 best VPN services to watch the NBA online and live in 2013 abroad