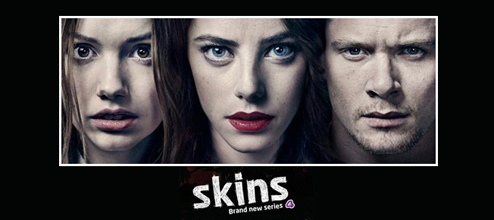 The TV show of an entire generation is ending soon…
Many TV shows of different kinds stood out the television landscape: "Desperate Housewives", "LOST", "Grey's Anatomy", "True Blood" (across the Atlantic), "Secret Diary of a Call Girl", "Merlin" and "Skins" (across the Channel). This last one allows its audience, essentially made up of teenagers, to identify with the British youth, who are shown with their darkest side.
Indeed, with its different characters, "Skins" covers topics that are more or less related to adolescence: homosexuality, teen pregnancy, anorexia, single parenthood and mental disorders. There is then a division of opinion as for that: on one side, the fans think that the show is realistic and well written; on the other side, the others think that "Skins" caricatures vulgarly the contemporary youth. So, the TV show can be considered as cult, because the more the works break up, the more people remember them.
"Skins" is original because every two years (or every two seasons), the cast changes. The show saw then many actors and actresses playing: Nicholas Hoult (who became successful on the big screen), Hannah Murray, Stephen Walters, Kaya Stonem, Jack O'Connell, Dev Patel (who played the leading role in "Slumdog Millionaire"), Kathryn Prescott, Laya Lewis and Sean Teale. And to mark the occasion, the seventh season promises plenty of surprises, as it marks the return of three major characters: Cassie, Effy and Cook. This season will be divided into three movies, which are themselves divided into two parts. An event that the fans and ST4RT*vpn won't miss!
"Skins" is broadcasted on the British TV channel Channel 4. People who live in the United Kingdom can watch the TV show online, whereas the others will see Channel 4's contents being locked in their respective countries.
What can you do in that case?
To unlock the contents of a foreign website in your country, you need to change your IP address.
To explain briefly what an IP address is, it is used as an online identifier, when you are connected to any Internet network. From that, your IP corresponds to the country where you are. Then, if you are in Canada, you will have a Canadian IP.
To replace your actual IP with a British one, you need of what is called a VPN service. It's a software that you pay, download and install on your computer. The three letters mean "Virtual Private Network".
A VPN service has several functions:
End of the story?
Yep, you have to get used to this idea: "Skins" is ending! So enjoy it and choose the VPN service you want, so you can follow the adventures of England's craziest teenagers for the last time!
Top 3 best VPN services to unlock and watch Skins abroad in 2013