American Idol, the most typical TV talent show!
At the beginning of the 2000's, a new kind of TV show was born: the TV talent show. What is the concept? Viewers follow during several weeks beginner singers who confront each other in order to win a contract in a record company (so the winner can record an album). On that side, there are many TV shows: "The X Factor", "The Voice" and "American Idol". This last one has been broadcasted since 2002 on FOX and is a real public success.
Inspired by the British TV show "Pop Idol", "American Idol" takes place that way: there is the castings phase in which the judges, who are big names in music, comment on the performances of thousands of candidates. Then, there are the prime times, broadcasted live, in which the public votes for their favourite candidate. This year, American viewers can see on their screen Mariah Carey and Nicki Minaj as judges of the TV show's twelfth season.
We can imagine that American people are not the only ones who want to see their idols on television every week. All around the world, "Pop Idol" inspired different TV shows, such as "Nouvelle Star" in France, "Deutschland sucht den Superstar" in Germany and "Australian Idol" in Australia. But none of them is as glamorous as the American version! So, for those who really want to watch "American Idol" directly from the United States, read carefully what is following!
Watching American Idol with a VPN
When you go on the TV show's official website, you can see the section of videos, in which you can watch again and again the show's best moments. However, if you don't live in the United States, when you want to watch a video, here is what is displaying: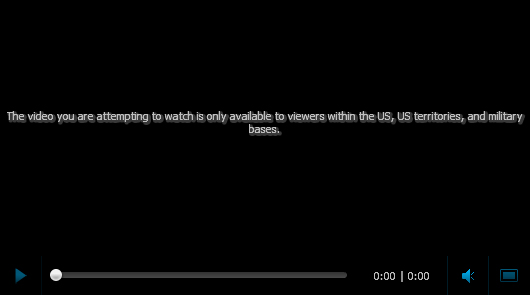 Why is there this message? Well, quite simply because you don't have an American IP address.
But what is an IP address? It identifies your computer when you are connecting to an Internet network. The IP address changes according to the country where you reside: a French IP will be then different than an American IP. Moreover, when you have a non-American IP, you can't have access to American websites' contents.
You can then use a VPN. It is a service which allows you to change your IP address according to the website in which you want to go. Then, if you want to watch the videos of "American Idol", you can replace your present IP address with an American one, in one click. But not only!
Indeed, with a VPN, your Internet connection is automatically secured: nobody can see what you are doing, and nobody can also hack your bank account (for example). Finally, you become anonymous: that is to say it is impossible to know who you are or where you come from (you can have a Spanish IP and live in Canada, for example).
Therefore, you have concluded that with the VPN, Internet has no limits!
Top 3 best VPN providers to watch American Idol online