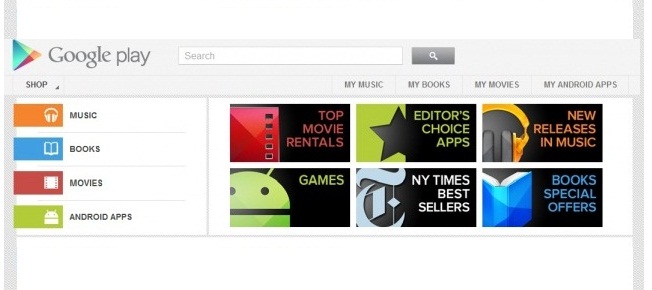 The Android Market has been replaced by something wider and bigger: Google Play. This new interface now includes e-books, music and videos.
According to Google Engineering Director Chris Yerga on techcrunch, the rebranding was something Google has been contemplating for quite some time, but the company felt that this was the "natural time" to pull the trigger.
With Google Play you can:
Store up songs (20.000 songs available)
Download apps on the Android Market (+450,000 Android apps and games)
Browse the world's largest selection of eBooks
Rent thousands of movies
Starting March 6th 2012, Android Market, Google Music and the Google eBookstore will become part of Google Play.
However, all these features aren't available in every countries. Only US residents are able to benefit from all the offers (music, movies, books and apps).
In Canada and the UK, users have access to movies, books and apps.
In Australia, books and apps
In Japan, movies and apps
Everywhere else, Google Play will just be the new name of the Android Market.
Google implemented this restriction because of licensing constraints. The limitation detects every user by analyzing its IP address, which gives information about your country location. The system filter all users and give different access, according to their origin.
How to access to Google Play US version?
The solution is very easy, it consists of switching your IP into an US one. A Virtual Private Network is a software which is able to make you appear as an American by providing you a new IP.
Using a VPN consists of establishing a connection between your computer and a VPN server. Once you are connected, you benefit from an encrypted tunnel for your datas, and a new IP address, according to the server's country location.
Finding the right VPN to access to Google Play's full version
Choose a VPN provider by sorting out those with US server location
Download the application
Sign in & connect to an US server
Enjoy a free access to Google Play
Top 3 VPN providers to unblock Google Play
Bottom line
Google Play is an unmissable evolution for the Android Market. Its potential growth for entertainment contents is huge. Moreover it provides a free access.
The VPN is a good way to access to all this content. Using this kind of software also enables you to discover wonderful entertainment sites such as Netflix, Pandora or Hulu.