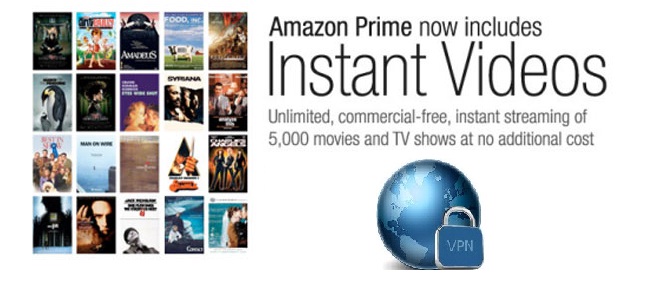 Amazon Prime Instant Video is a subscription service offered by the world's biggest retailer of the same name. The Amazon Prime membership gives you  the access to a fast growing number of movies and tv shows for instant watch or on demand service.
With a catalogue of over 10,000 movies and TV-shows, it's increasingly becoming a viable alternative to Netflix.
However this amazing base is only available from the US. The blocking system is based on the IP source. Thankfully the restriction is quite easy to bypass.
Circumvent Amazon Instant Video geo-restriction
It consists of setting up a Virtual Private Network (VPN). This kind of application allows you to connect to a VPN server which provides a new IP, according to the server's location.
Once the connection is established you appear as a foreigner, your access to all geo-blocked websites is also granted.
How to find a VPN service to unblock Amazon Instant Video?
Select a provider with US server location
Download the software
Switch your IP
Connect to Amazon Instant Video
Top 3 VPN providers to unblock Amazon Instant Video
Bottom line
The VPN extends your online freedom by giving you the access to multiple wonderful sites such as Netflix, Pandora or Hulu.
It also ensure your online privacy and anonymity by preventing
your from the internet censorship.