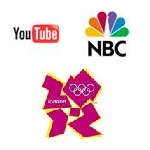 YouTube is the live streaming partner of NBC for the forecoming 2012 Olympic Games in London. However, YouTube's parent company, Google doesn't want to take any risk in this case. According to the Wall Street Journal, Google and NBC would be prepared to a 'war games' for all sorts of questions that might arise during the event.
From just hackers to massive hardware outages, both companies have been working together for almost a year to prepare for the massive event. The London Olympics would probably be the largest online sporting event ever, according to the Journal, besting last Olympics in Beijing.
Google especially plans to stream 3,500 hours of video during the games.
Boom of Livestreaming
The online livestreaming of major events is now quite normal, and not just for massive events, such as London 2012. Esports, competitive video gaming, has seen a rise in its popularity with sites like Twitch.tv and Own3d.tv providing easy streaming technology to anyone with a fast enough computer and connection.
YouTube has elsewhere been working in the field of consumer streaming services, but hasn't yet reached any particular market.
Of course, the Olympic Games, with the lots of time of streaming planned, could move the needle even further towards livestreaming being a completely mainstream method of watching any sort of live content.
Security
Google is taking no risk. Given the chance of a group of hacker-types trying to take down the stream, and the constant potential of a technical failure, having backups in place is more than recommended.
Major League Gaming, an esports company that uses to stream for hundreds of thousands of users every quarter, has suffered downtime stemming from sources as unpredictable storms taking down satellite data linkups. NBC quite obviously wants none of that.
With any technology this new, there is always a chance of failure. However, it would seem, with these 'war games' in mind, that as much as might have been done, has likely been done.
Watch US contents from abroad