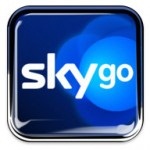 Expanding the content available on both iOS and Android apps, the TV channel Sky just added on-demand sport, movie and lifestyle content to its streaming service: Sky Go.
The new updates add content from Sky Movies, Sky Entertainment, including its famous Sky 1, Sky Atlantic, Sky Living and Sky Arts 1 channels.
With both on-demand movies and TV shows coming to smartphone, Sky is actually competing its web-based rivals like Netflix and LoveFilm. This competitors are yet offering content via connected TVs, games consoles, mobile and tablet devices for a low monthly subscription fee.
With the addition of the new contents, Sky Go suscribers are able to watch Mad Men, Veep through Sky Atlantic, but also sport on 8 dedicated channels and films including Rio and Xmen.
However the Android app only supports a limited amount of devices and no tablets
The Android app still only supports a limited number of devices, in fact it only supports smartphones and no tablets. The smartphones it does support are: HTC Desire, HTC Desire S, HTC Desire HD, HTC Incredible, HTC Sensation, HTC Sensation XE, Samsung Galaxy S, Samsung Galaxy S2.
The iOS app still work on the iPad, as well as the iPhone and iPod touch.
Watching Sky Go outside UK
Unfortunately for users outside UK, the service remains unavailable. Due to licensing constraints the Sky company has to restrict its contents within your country location.
The blocking system analyzes your IP and is able to determine your precise location. If it turns out that you aren't a UK resident, the contents are blocked.
The VPN remains one of the best solutions to bypass this kind of restrictions. See our dedicated posts below for more informations.
Sky Go outside UKUnblock sites on Android Unblock sites on iOS