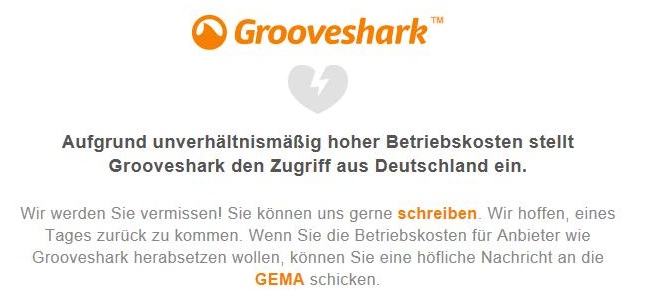 On January 18th 2012, millions of Internet users in Germany woke up with serious decreased options for online music listening. The famous music streaming website Grooveshark, operated a self-censorship in the country, because of "unreasonably high" licensing costs imposed by local music rights collection group GEMA.
Grooveshark thus closed its service to 10% of its 30 millions users. Rather than the usual homepage, German users were instead redirected with the message at the beginning of the post.
Translation from TorrentFreak:
"We will miss you! You can write to us. We hope to come back one day," it continues. "If you want to reduce the operating costs for both providers and Grooveshark, you can send a polite message to GEMA."
This restriction, base on the IP location of the user is thankfully easily circumvented with a VPN service.
What is a Virtual Private Network (VPN)?
A Virtual Private Network (VPN) allows you to benefit from a secure connection to the VPN server of your choice. Once the connection is established, all your datas go through a tunnel of encryption.
This system is a good way to ensure your online privacy and anonymity. Moreover it also enable to change your IP and to appear as a foreigner.
To bypass Grooveshark restriction in Germany, choose a server location in which Grooveshark browsing is granted.
How to use a VPN?
Download the application
Easily switch your IP by choosing your country location
Freely browse to Grooveshark.com
Top 3 VPN providers to unblock Grooveshark in Germany
Bottom line
Using a VPN service restores your online privacy and anonymity by encrypting your datas. It is a good way to secure your communications on your Iphone or even for Skype.
Otherwise, this kind of software give you the ability to bypass your country censorship and to access to geoblocked countries such as Hulu, Netflix, or even UK TV.